Rare et spectaculaire : l'oeil de Dieu !

La photo ci-dessous est très rare. C'est une image, appelée « L'œil de Dieu », que la NASA a prise avec le télescope Hubble. Cet événement ne se produirait, paraît-il, qu'une fois tous les 3000 ans ! Trop beau pour être vrai ?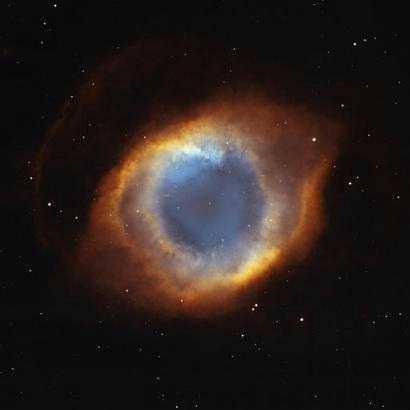 Source de l'illustration : veuillez cliquer sur l'image
Voici quelques explications (en Anglais) : http://www.breakthechain.org/exclusives/eyeofgod.html
"The phenomenon in the amazing image above is real. The Helix Nebula is a planetary nebula about 650 light-years from Earth. It's a popular target for astronomers because, due to its relative proximity, it's easily viewed through binoculars or telescope.
However, the image above is not a true "picture" in the technical sense of the word. Rather, it is a computer-generated and enhanced mosaic of nine separate photographs taken by the Hubble telescope and combined with a wider image captured by the National Science Foundation's telescope at Kitt Peak National Optical Astronomy Observatory near Tucson, Arizona. It is a scientific representation of what the nebula might look like.
Despite its resemblance to the human eye in this 2-dimensional image, the Helix Nebula is actually a spiral cylinder more than one trillion kilometers long. Since it points directly toward Earth, it looks like a bubble (or eye) to us, rather than the tube-like structure it really is.
I'm not sure who the author of the text above is referring to in the line "They are referring to it as the 'Eye of God,'" but it's not any NASA official speaking on the record. In fact, many different astronomical bodies have been dubbed "the Eye of God" by professional and amateur astronomers alike because of their general resemblance to the human eye in 2-dimensions."
Il ne s'agit pas d'une "image" vraie dans le sens technique du mot, plutôt une mosaïque, un montage de photos séparées prise par le télescope spacial Hubble, diffusée sur le site Web de la NASA (en mai 2003) et retrouvée sur de nombreux sites Web sous le nom de "l'Oeil de Dieu".
(C'est coloré informatiquement, Hubble ne prend pas de photos en couleur).
C'est une représentation scientifique de ce à quoi pourrait ressembler la nébuleuse.
En dépit de sa ressemblance avec l'oeil humain dans cette image à 2 dimensions, la nébuleuse est réellement un cylindre en spirale de plus d'un trillion de km de long, au centre une étoile en fin de vie.
Ce ne sont pas les fonctionnaires de la Nasa qui l'ont qualifiée d'Oeil de Dieu, beaucoup de corps astronomiques ont été désignés ainsi du fait de leur ressemblance avec l'oeil humain.
Merci à Madeleine pour sa traduction